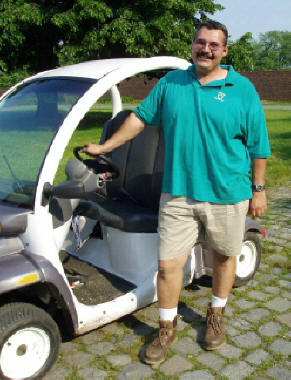 A Message From
The Manager Of
Caumsett State Historic Park,

Lenny Krauss...

Mr. Krauss is shown with a GEM® zero-emissions vehicle from Daimler Chrysler.
---
On behalf of our NYS commissioner of Parks, Recreation and Historic Preservation, Bernadette Castro, I would like to welcome you to Caumsett State Historic Park!
Thank you for visiting the Caumsett Foundation's website as well as your interest in Caumsett State Historic Park.
I am delighted to work with the Caumsett Foundation; an exceptional group of individuals who have dedicated their time in what I believe is one of New York's finest Parks.
The Caumsett Foundation is one of New York's newest not-for profit friends group and is also one of its most successful. To date the Foundation has raised over one million dollars towards the restoration, education and preservation of Caumsett State Historic Park.
As you enter the Park the visitor's kiosk (funded in part by the Foundation) you can find out about the parks latest events and learn of its history. Maps also show points of interest and how you may get there.
The Dairy Complex which is currently under restoration, is a multi-phase project that will eventually become the parks Visitor / Environmental Center. This project has been made possible through the fund raising efforts of the Caumsett Foundation.
Other areas of the Park have also seen revitalization through the Caumsett Foundation. The Walled Garden, a former 4-acre vegetable garden, is now underway and will no doubt become one of the Parks most scenic stops. The Walled Garden is not only a beautiful place to relax but also a place to enjoy our summer cultural arts series. Summer 2003 saw The Sound of Music (co-sponsored by the Foundation), Shakespeare's "Twelfth Night" and the Rose Quartet. You can visit this work in progress and see the beauty that it is, and will become.
The Park has over 1,500 acres and I have only spoken of a few. Come visit Caumsett, less than an hour from the New York City and you can see open meadows and forests to the shores and magnificent bluffs, one of the north shores largest salt water marshes and fresh water pond. It's all here, history: natural and cultural, geological and ecological.
See You Soon!
Lenny Krauss